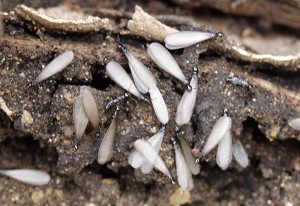 The Western Subterranean Termite is the most common termite for the western part of the United States.  This termite species usually builds its colony underground just below the frost line yet still above the water table.
Western Subterranean Termites enter homes by squeezing through the cracks found in foundations or other building materials.  In fact, they can squeeze through cracks as small 1/16 of an inch wide.
Their food of choice is the cellulose part of wood which is found in walls, floors, dressers, tables, etc.  Their damage is normally found on the first floor of the home and in the basement.  One can find evidence of them in their tunnels and in their swarming behavior.
Go Tampa Pest Control provides both termite removal and termite prevention.  Call us today to find out how you can protect your home!  No Risk!  No Pressure!  No Hassle!